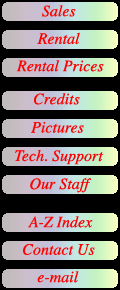 Latest Picture
2009 Emmy Award
(Click on the picture to enlarge)


This is an historical Website and it is not for any commercial purpose.

It has no current information and does not solicit any business.
Rental and Sale of:
Digital Cinema systems, Video Projectors, Data Projectors, Graphics Projectors and HDTV Projection Systems.
Dealers for:
Digital Projection, Christie, Sanyo and Sharp. Stewart and Da-Lite screens, Faroudja and Extron.

9/20/2009 - A great success at the 2009 Emmy Awards
American Hi Definition, Inc. is the leading force in large screen video projection, offering the industry the latest technology. This, combined with our vast engineering experience allows us to produce unparalleled, quality presentations for Special Events, The Motion Picture and Television Industry.
We proudly Rent, Operate and Sell:
Video Projectors:
Screens:
Da-Lite
(Sorry, we do not sell to home theater, please call Da-Lite for your nearest dealer)
Stewart
Contact us at:
American Hi Definition, Inc.
7635 Airport Business Park way, Van Nuys, California 91406 U.S.A.
(818) 222-0022 http://www.hi-def.com/
Driving Directions
© 2007 American Hi Definition, Inc.